Cloistered courtyard invites guests to a reimagined Carnbooth Hotel
Send to friend
* Required fields
|
Send to friend
April 5 2018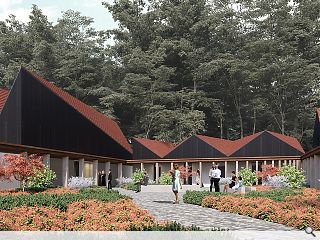 CameronWebster and Loader & Monteith architects have drawn up ambitious plans to bring
Glasgow's B-listed Carnbooth House Hotel
into the 21st century with a contemporary new extension to enhance its attraction as a wedding venue.
Housing a function room and brasserie the new addition will entail a number of alterations to be made to the rear of the hotel, increasing the number of bedrooms on offer and augmenting plans to
build a number of new flats within the wooded hotel grounds
.
An additional 31 bedrooms will be arranged around a cloistered courtyard and garden with new facilities including a subterranean spa and a function suite enjoying southerly views across Kittoch Water.
Outlining their inspiration behind the build the architects wrote: "The cloistered courtyard will provide a beautiful setting appropriate for the arrival of a wedding. We have taken inspiration from the Vajrasana Buddhist Retreat Centre in Bury St Edmunds by Walters and Cohen Architects, along with the Serpentine Pavilion by Atelier Zumthor.
"These spaces, introspective and inward looking and beautiful, are a suitable example of the type of space to both protect from the Scottish weather (below the cloister) but to celebrate a special day or event."
A materials palette consisting of red rosemary tiles, dressed red sandstone, blackened timber and white harling are proposed to marry with the existing hotel.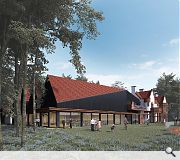 Each element has pitched roofs with falls respecting the existing house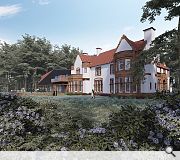 The new roof ridgeline is kept subservient to that of the historic home
Back to April 2018