All new Cornton Vale to revolutionise prisoner rehabilitation
|
Send to friend
April 5 2018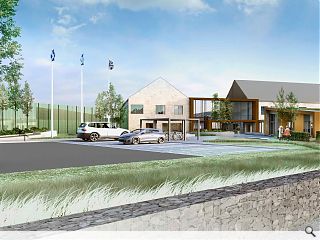 The Scottish Prison Service is to progress plans for a new
National Women's Prison at Cornton Vale, Stirling
, to improve the rehabilitation prospects of prisoners.
This will see the existing jail redeveloped in a phased programme of demolition and new build overseen by Holmes Miller with a view to positively influencing inmate behaviour.
Outlining the concept the architects wrote: "The facility should be designed around creating therapeutic environments, which are non threatening, familiar, safe and offer hope and promise to individuals.
"Internal spaces are open and welcoming, with transparency at all levels. Strong connections to the immediate and far reaching landscape are made at all levels, from the largest communal spaces down to the individual bedroom accommodation.This feeling of openness is a key device in assisting in creating a calming, positive environment."
This will manifest itself in a new prison building influenced by the many clusters of rural farm buildings which dot Stirlingshire, dividing the premises into public, activity and residential zones.
Facing brick is employed as the main external wall treatment, contrasted with the use of natural patenated and coloured zinc to express key features.
Back to April 2018