Affordable housing drive delivers Royston residential infill
|
Send to friend
March 29 2018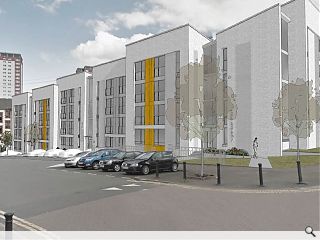 Spire View Housing Association and Grant Murray Architects are collaborating on the delivery of
24 flats
, replacing a former clinic building dating from the 1930s.
Modelled on adjacent Victorian tenement blocks the chosen solution employs monopitch roofs angled at ten degrees in order to add mass to the principle Glenbarr and Rymer Street elevations.
Detailing this approach the architects wrote: "The form along Glenbarr Street is a simple yet modern interpretation of the classic Glasgow tenement, with a central close and 8 flats arranged almost entirely symmetrically either side of this common stair.
"Blocks are stepped back to create interest, increase privacy from car parking in front & to generate planting opportunities, while blocks on the right of the close are lifted off the ground slightly to reflect the topography of the street, reduce the size & severity of retaining walls & to again afford more privacy from parking areas in front.
"A large, almost entirely unbroken, 4 & ½ storey facing brick 'fin' signals the transition between Rhymer Street & Glenbarr Street. The angled profile of this fin is no mere design flourish but rather reflects that the Rhymer Street properties are a half storey above the Glenbarr flats & thus the close requires this additional headroom."
Upon completion the L-plan build will complete the urban block using a neutral white brick.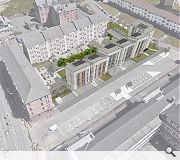 The new homes respond in scale to neighbouring tenements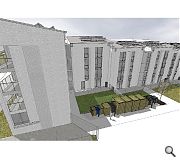 White brick has been selected to impart a 'light and timeless' quality
Back to March 2018