Aberdeen quarry opens up a rich seam of housing
|
Send to friend
March 16 2018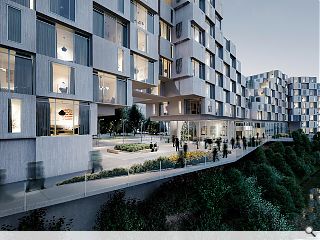 IBI Group have tabled their finished designs for
299 private flats
at Aberdeen's
Hill of Rubislaw
overlooking a disused granite quarry.
Circling the southern flank of the flooded excavation will be a continuous tiered block of accommodation stepping between three ten storey 'hills' inspired by the peaks of Glen Coe with an opening at their base.
The brownfield site was previously in use as part of quarrying activity but has been sealed off amidst concerns as to the stability of the quarry cliff, resulting in all new developments in the area turning their backs to the inadvertent water feature.
To remedy this IBI plan to open up public access to the quarry perimeter with a promenade along the quarry lip, with a modular build stacked behind in a conscious evocation of the piles of granite blocks which would once have been stockpiled there and extending the cliff-face skyward.
A materials palette of masonry-based off-white cladding panels will be used, with granite reserved for the ground floor, with the modular build employing off-site fabrication techniques to speed construction.
This will enable an alternating façade to be created, as detailed by IBI: "A basic chequerboard pattern of 'In' and 'Out' modules is created, where every 'Out' module is flanked by an 'In' module and vice-versa. This pattern is comprised of three basic modules. 'Living In', 'Living Out' and 'In'. 'Bedroom In' and 'Living In' are the same.
"'Out' modules are comprised of vision glass and solid panel, whereas both 'In' panels are comprised of three large vision glass panels."
To further encourage footfall a heritage bistro will be located along the water's edge providing an opportunity to linger, offering a combination of refreshment s and a permanent exhibition of life in the former quarry.
A public promenade will snake around the quarry lip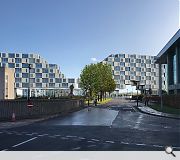 IBI are keen to establish Rubislaw Quarry as a destination in its own right
Back to March 2018