Opinions sought on £18m leisure centre at Helensburgh Pierhead
|
Send to friend
March 12 2018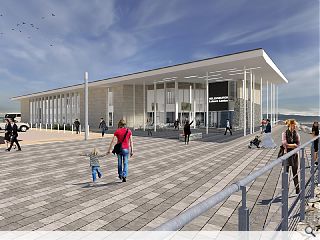 Argyll & Bute Council is holding a series of pre-application consultations into its plans to build an £18m waterfront leisure centre in Helensburgh together with associated flood defences.
Incorporating a swimming pool and public space offering connections to Colquhoun Square the scheme seeks to being new life to the towns waterfront in accordance with the principle laid out in a
2012 masterplan prepared by Hoskins Architects
.
Opinions are being sought on designs by Darnton B3 Architecture for the pierhead build, finished in Trespa, gold cladding and Kalwall with aluminium louvres and a rubble wall base course.
Drop in events are planned for 26 March, 30 April and 16 May between 11:00 and 19:00 at Victoria Halls.
Helensburgh is also benefitting from refurbishment of nearby
Hermitage Park
which should complete this summer.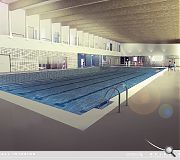 A 24,200ft2 swimming pool and leisure centre is deemed to be the best use of the site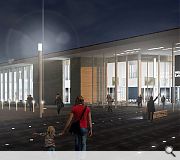 Extensive public realm work will accompany the leisure destination
Back to March 2018