Arbroath architect spearheads Maasai school and cultural centre
|
Send to friend
March 8 2018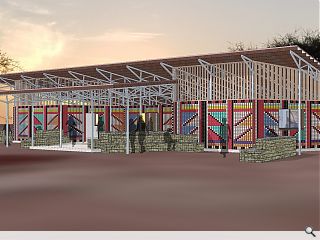 Jonathan Reeve, an architect at the Voigt Partnership, has branched out from Arbroath for an exotic commission in Africa after designing a school and cultural centre for the Maasai tribe in Kenya.
Reeve has designed a building split into three parts; a school, cultural centre and office, to help educate local children and adults.
Drawing inspiration from Maasai jewellery the project, specifically intricate beading and colours, by making use of recycled glass bottles arranged around three interlocking hexagonal spaces, resembling a bracelet.
Reeve wrote: "Even at an early stage I realised this was a special project. Almost everyone around the world has heard of the Maasai tribe, and to incorporate elements in a design brief such as 'views to Mount Kilimanjaro' and 'walls to deter elephant stampedes' are not what you are used to working with in my day job!"
Reeve will travel to Kenya on 13 March to oversee arrangements for an anticipated August build.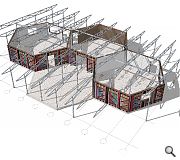 Hexagonal rooms resemble the Giant's Causeway in Reeves' native Ireland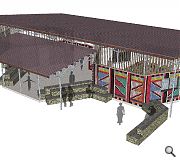 Maasai art focusses on the use of blue, green, white, red, black, orange and yellow
Back to March 2018