Edinburgh Academy library link proposed
February 21 2018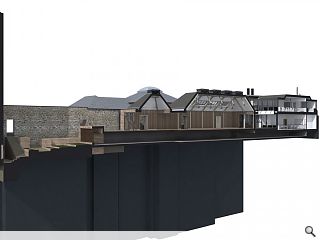 LDN Architects have filed for permission to
extend an existing science centre and library at Edinburgh Academy
by way of a connected teaching and learning space as well as a multi-purpose hall.
A modern addition to the historic campus the link building as part of a wider masterplan drawn by Richard Murphy Architects to mark the school's bicentenary in 2024.
The chosen form for the newest addition is three distinct roofs reflecting its use as a library, hall and teaching space, all of which rise above a unifying stone plinth, while improving circulation between proposed and existing structures.
In a statement LDN wrote: "This proposal seeks to create a modern building that will integrate well into its context, complement the continued development of the campus and provide the school with the multi-functional facility that the school desires.
"The heart of Phase 1 of the Masterplan is the creation of a dynamic new wing in the east of the site which encompasses a multi-purpose engagement space. This ambitious new build will deliver an exciting hub for ideas exchange and new learning, providing a genuinely collaborative space for creative and critical thinking through a broad spectrum of activity."
A materials palette of low maintenance pre-weathered zinc, stone and glass has been selected to defer to the A-listed main hall with a new garden area and paved courtyard also specified within the package of works.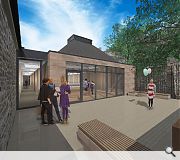 Landscaped grounds will integrate the extension within the campus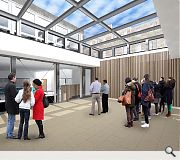 Roofs are angled to minimise overshadowing of adjacent properties
Back to February 2018