Landmark Forfar church to be bulldozed following appeal
February 15 2018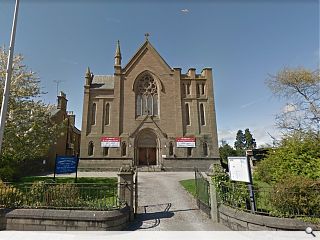 An historic church in Forfar's conservation area is to be bulldozed after Angus councilors gave their blessing to plans by the congregation to replace it with a new build community centre, on the grounds that the 'economic and social benefits' of their proposals 'significantly outweigh the historic environment value of the site'.
Overruling the recommendation of the authority's own planners, who refused the application on the grounds of its 'significant detrimental impact on the character and appearance of Forfar', councilors instead sided with reverend Maggie Hunt who has championed demolition.
Built in 1881
St Margaret's Church
isn't listed and requires extensive roof repairs to halt a series of repeated flooding incidents over the years - in addition to installation of a new heating system and repairs to its windows, stonework and guttering.
These issues have been calculated as costing £1.4m to put right by church trustees, persuading them to progress alternative plans for the complete demolition and rebuild which they say would cost just £1m.
To that end James F. Stephen Architects have drawn up plans for a sports hall, hospitality and meeting space complete with disabled changing and toilet facilities.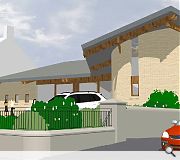 A low-rise multifunction hall will take the place of the imposing Gothic edifice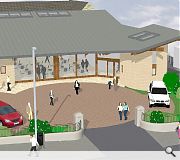 Planners had initially blocked the demolition bid last September, a decision which the church has now successfully appealed
Back to February 2018