Richard Murphy shows Hart of steel
Send to friend
* Required fields
|
Send to friend
July 22 2008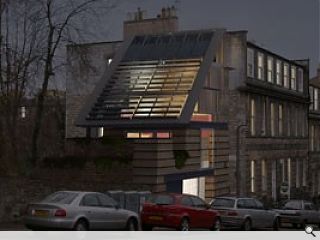 Richard Murphy Architects have submitted to planning a new house designed for occupancy by Richard Murphy himself. The scheme entails loss of half an existing garden but heals the unsightly gable end of a terrace on Hart Street.
Materially the scheme continues cornice lines and maintains the ashlar treatment of neighbouring properties, now terminated by a dramatic sloping roof. A feature of the build, this roof is comprised mainly of glass and inset photovoltaic cells. This configuration both permits daylight through to properties on Forth Street and by way of an insulated shutter system can be closed to prevent heat loss and opened to permit heat gain. This heat is distributed through the house by way of a solar powered fan.
With primary living spaces located to the first floor, the scheme is somewhat dead at ground floor level, presenting a parking garage and bedroom accommodation to the street. The building does however enrich the architectural language of the New Town by bringing a contemporary solution to a Georgian problem site and Mr Murphy deserves credit for practising his architectural ambition with his own finance and family.
This unabashed modernity though has stirred resentment from Mr Murphy's neighbours as opinion irreconcilably fractures along opposing viewpoints. Does contemporary architecture compliment or detract from the New Town district? Speaking to Architecture Scotland, local resident Mandy Watt said:
"
Mr Murphy's reputation is founded on his designs for mews properties in the Edinburgh New Town. Those designs fit very well with their surroundings; this building will not.
"
"
In designing this detached dwelling for a very different site, Mr Murphy seems to have dusted off one of his old Mews designs then topped it with a Huf-Haus style glass & PV roof. Please look at the whole design and the actual site then ask yourself, is this truly the best design that Richard Murphy is capable of?
"
Mr Murphy fully expects this opposition to cause his plans to be rejected, but has pledged to appeal saying:
"
I know it will be controversial, but I'm simply trying to place a piece of contemporary design in a historic context. I want people to imagine this building having been in this location for 20 years and whether they would rather have an ugly gable end instead. It will go on to win awards. People will never argue for it to be demolished.
"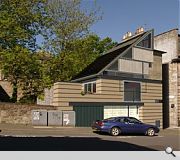 Back to July 2008