E&C populate virgin Merchant City territory
|
Send to friend
July 22 2008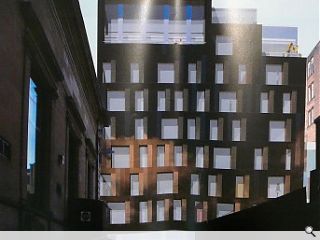 An unsightly hole in Glasgow's urban fabric, 71 Virginia Street, could soon sprout a new landmark if Elder & Cannon's vision for Consortium Property is realised.
Providing 57 flats at a cost of £6 million the design utilises a tried and tested cascading terrace to bridge less lofty peers, playfully inverted at street level to dramatise entrance.
A copper alloy facade works wonders for solidity, imparting a suitably luxurious sheen to marry well with traditional sandstones. A mettalic finish burnishes a razor profile that the city would do well to adopt in lieu of stone, imbuing sufficient gravitas to bookend Virginia Street and impress The Corinthian.
Back to July 2008