Twin masterplans brought forward for Galashiels and Tweedbank
|
Send to friend
January 30 2018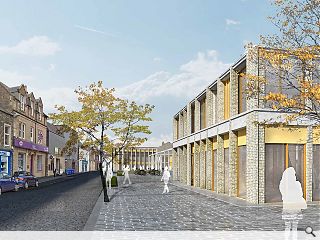 Scottish Borders Council has unveiled its vision to transform Galashiels town centre and significantly expand the village of Tweedbank via twin masterplan proposals sparked by the new
Borders Railway
.
Designed to encourage people to migrate and stay within the Borders region the dual blueprint would investigate the regeneration potential attached to the
Great Tapestry of Scotland
visitor centre by establishing a business improvement district.
Specific proposals include the transformation of Market Square in Galashiels into an events and activities space in accordance with concept proposals brought forward by Stallan-Brand. This would be augmented by the reactivation of neglected side streets through development of a lanes strategy.
Tweedbank meanwhile would be in line for a Proctor & Matthews designed arrival square formed outside Tweedbank Station lined by commercial space, cafes and apartments. This would dovetail with a combined business and residential expansion of the Lowood Estate with other potential additions including a footbridge over the River Tweed and a community hub.
Councillor Mark Rowley commented: "These great prospectuses will be used to encourage more businesses, visitors, homeowners and workers to come to the area.
"Galashiels has proud historical links to the textiles industry which the masterplan recognises should play a role in the regeneration of the town, with the Great Tapestry of Scotland Visitor Centre set to be the catalyst for this transformation by creating significant economic, social and educational benefits.
"A different approach is being taken forward for Tweedbank with the aim of making it an attractive place to live and work through ambitious new residential and business plans closely connected to the railway."
Scottish Borders Council admit that while they are not in a position to progress all of the ideas presented they hope to encourage private partners to augment their investment in both communities.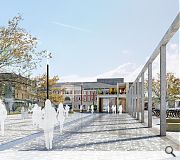 The Market Square in Galashiels could be transformed into an events and activity space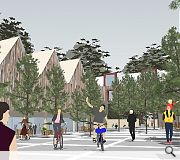 Tweedbank could be set for significant expansion should the plans come to fruition
Back to January 2018