Govanhill social housing picks up the pace
January 17 2018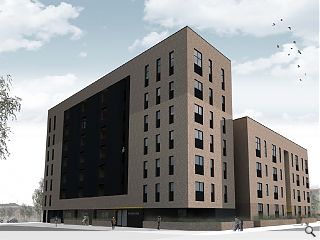 Do Architecture have
revisited plans to build 46 homes on a brownfield site to the north of Govanhill
, on a site bounded by Inglefield Street, Larkfield Street and Cathcart Road to accommodate an additional three homes .
This will see two blocks aligned to form a 'hard' street edge, separated by a common entrance which will connect to a rear courtyard, helping to bring activity and life back to the corner junction through provision of new housing for social and mid-market rent.
In their
design report Do observed
: "We have adopted a simple, repetitive, linear format for the fenestration. In order to replicate the depth of the tenement windows we propose to use deep window pods for the vertical windows along with the shallow wider balcony doors. This play with depth is an attempt to achieve a more dynamic and interesting elevation combining historic and modern architectural qualities.
"In order to achieve articulation in the brick, we have chosen to strike lines at particular heights of each block - treating above or below this line with a different mortar colour to break up the elevations, with each having a relationship to its adjacent block. The lower west block has this treatment to its base level which we believe helps to 'ground' the building, whereas in the taller north block we have struck a line at West parapet level to celebrate the upper floors in a different manner to the rest and relate in scale to its companion block."
Adopting a repetitive, linear fenestration the properties will be finished in buff brick with areas of black metal balustrading.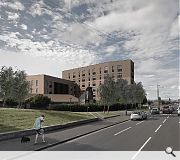 Buff brick has been chosen to marry with blonde sandstone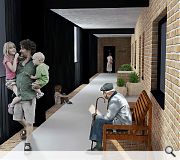 Each block will have its own dedicated entrance
Back to January 2018