Pollokshields hive of industry to buzz again
|
Send to friend
January 12 2018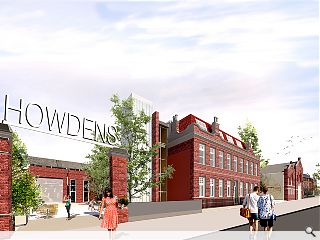 Page\Park are leading efforts to bring an historic Glasgow engineering works back to life with detailed plans for the restoration of surviving industrial buildings, including the demolition of one fire damaged structure to allow a new courtyard to be created.
Zephyr acquired the former
Howdens engineering works
back in 2016 with a view to retaining the historic character of the site by fashioning an innovative business space within it, with undeveloped land given over to a mix of flats and mews-style properties.
Sitting within the shadow of Mackintosh's Scotland Street School the project will comprise 230 homes, shops, cafes and office space to establish a continuous urban fabric out to Pollokshields. In a statement the architects wrote: "The aim is to create a new vibrant neighbourhood, where people live and work, and with an important cultural feature at its heart."
Key to this approach will be the re-use of selected industrial buildings as loft-style offices and studio space including a new 'front door' to Scotland Street to establish the area as a business location.
An internal tree-lined courtyard will serve as the heart of the new community, reached by a shared surface access road and flanked by outdoor seating.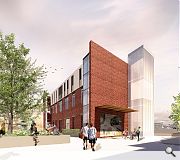 A new 'front door' advertises the regeneration project to the city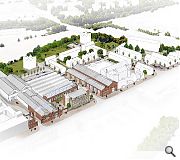 Residential sales will help finance the sensitive restoration of selected buildings
Back to January 2018