Wilson + Gunn firm up Edinburgh Marina plans
November 27 2017
Wilson + Gunn have begun filing specific applications for individual developments at Edinburgh Marina, a 60-acre development along the Firth of Forth comprising 1,800 homes, a 300-berth marina, a 186-bed spa hotel and 18,500sq/m retail, leisure and commercial space.
In their latest application detailed plans have been drawn up for the
hotel and serviced apartments
which will together form a city block containing a landscaped courtyard, with publicly accessible terraces in front of the hotel.
In a statement the architects wrote: "Visually, the proposed buildings enhance the sense of place through their design character by being unique, recogniseable and in the case of the hotel a distinct landmark. The hotel is a striking, object building manifest in black brick and glass with a crisp, white skin wrapping around. The materiality is based on an design concept that draws upon the maritime character of the surrounding environment. The white cladding of the hotel echoing the white hulls of the boats."
112 serviced apartments will accompany the hotel, bookended by light grey brick containing a white render frontage topped by a saw-tooth roof. These will be joined by an additional 100 homes spread across four blocks and a public park.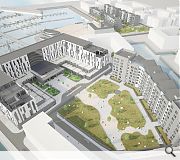 Marina-facing buildings will adopt a higher density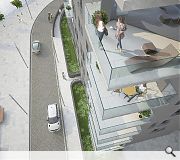 Serviced apartments will be faced in grey brick
Back to November 2017