Paisley care home and veterans centre completes
November 13 2017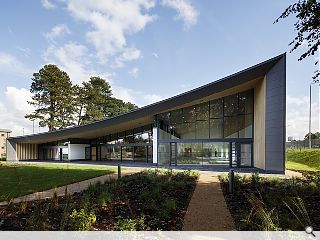 Page\Park Architects and CCG have unwrapped a day centre for veterans with sight loss at the junction of Hawkhead and Barrhead Road's, Paisley.
Conceived by Scottish War Blinded, the
Hawkhead Centre
sits beneath a dramatic soaring roof which has been likened to the aerodynamic wings of a fighter jet or Hawk.
This dramatic space houses a large sports hall and café together with smaller workshops, classrooms, an IT suite and rehabilitation room all set within mature landscaped gardens and sits alongside a complementary care home designed by the Unum Partnership.
Alastair Wylie, chairman and CEO of CCG, said: "CCG has a wealth of experience working in the care and amenity sectors so we understand how important facilities like Hawkhead Road are to the end-user, in this case Scottish war veterans. Each facility has been designed to be as accessible as possible and we hop the veterans find it a welcoming and comfortable environment."
The Hawkhead Centre is now open to members of Scottish War Blinded..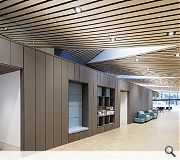 Facilities are accessed off a large east-west central spine
Back to November 2017