University of Edinburgh's Appleton Tower over-cladding project completes
November 7 2017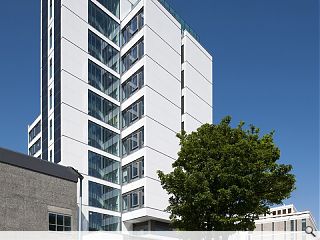 CCG have completed a £12m over-cladding of the University of Edinburgh's
Appleton Tower
together with a new top floor, entrance and landscaping.
Designed by LDN to respect the modernist design while improving its lifespan, services and accessibility the tower now boasts additionam floorspace set aside for conferences and events.
CCG specialist building services Manager, Paul Muldoon, commented: "We are extremely proud to have delivered what is now the first of two phases of work at Appleton Tower. The second phase, due for final completion winter 2017, has involved the extensive reconfiguration and refurbishment of teaching facilities over six floors which will improve the learning environment for both faculty and students."
Upgraded thermal insulation also improves environmental performance while a reconfigured main entrance offers improved access for the disabled together with a top floor extension providing a panoramic study and teaching space for students and staff.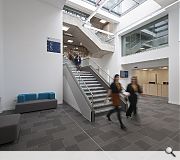 Appleton Tower was originally designed by Reiach & Hall in 1963
Back to November 2017