'High quality' Kelvindale flats sail through planning
October 27 2017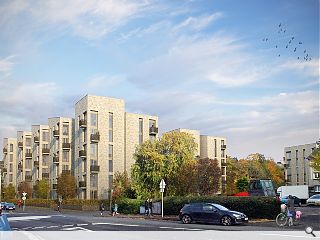 A bid by Mactaggart and Mickel Homes to build
114 flats at Dorchester Avenue, Glasgow
, has won the all-clear from planners, allowing work to begin on the delivery of three accommodation blocks.
Permission was given following an agreement to increase on-site parking provision from 125 to 136 spaces with planners praising the 'high quality' of the proposed work by Carson & Partners.
Outlining their decision the council's planning applications committee wrote: "Whilst the proposal now involves additional flats, the actual floorspace for the new development is less than that of the extant permission (due to much larger flats and townhouses being proposed in the previous scheme). The extant consent has 224 bedrooms in the development with 107 car spaces. The current proposal has 214 bedrooms with 136 spaces.
"It is our view that the proposed scheme is actually an improved position from the extant consent in terms of car parking provision. Furthermore, the extant scheme did not have the same level of amenity and children's play as part of the development.
"In conclusion, the applicant has emphasised their commitment to constructing a high-quality development on this brownfield site which they feel will enhance the character of the area."
Formed from a palette of textured brick the development includes large format windows with laser cut metal balconies inspired by surviving pattern books from MacFarlanes Ironworks in Springburn.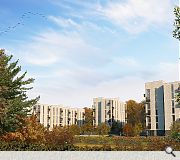 Planners warmed to the latest proposal, viewing them as an advance on a prior 2004 consent - which remains active
Back to October 2017