Skypark grows up
|
Send to friend
July 16 2008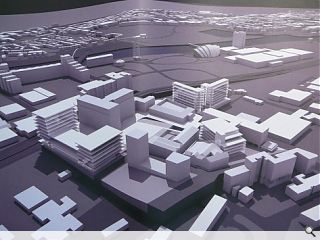 Early proposals for plots in the Finnieston district have been superceded following Kenmore's purchase of the Skypark office scheme in a £90 million joint venture with Paradigm and Moncrieff Minerva. Kenmore aim to pursue a policy of densification across the estate, with a view to growing rental yields. To this end gm+ad architects have been commissioned to explore ways of activating the economic potential of unproductive lands.
Masterplan proposals call for the refurbishment and creation of 5 new buildings:
SP5
: 45 Finnieston St
gm+ad architects are seeking to refurbish the present dilapidated structure into an environment suitable for the pursuit of tenants.
SP7
: 110 Finnieston St
Enjoying a favoured vantage adjacent to Exhibition Centre station this site is earmarked for a phased twin 7 storey hotel development alongside multi storey parking.
SP8
: AMEF site
Michael Laird Architects are currently drawing up the most ambitious build currently tabled. 11 floors of office space seek to address the urban context by repeating the scale of the main Skypark building. This massing should cement the build within the fabric of the city providing a considered response to the Clydeside Expressway.
SP9
: 125 Houldsworth St
Jenkins & Marr have adopted a stepped profile for their Houldsworth St office. This concedes to the gable of an adjacent listed building and allows daylight penetration to street level. A corporate blue fin will be uplit in LED lights adorned by the Skypark brand. Unfortunately the grey dressing of SP9 is more liable to deaden than sparkle in low light blending with the drab SP5.
SP10
: Elliott Street
The existing MSCP and main entrance ramp is both accessible and visible with a high rise development on the site considered beneficial. The final piece of the Skypark jigsaw, no design has been finalised.
Back to July 2008