300 'undulating' homes to skirt Aberdeen's Rubislaw Quarry
October 11 2017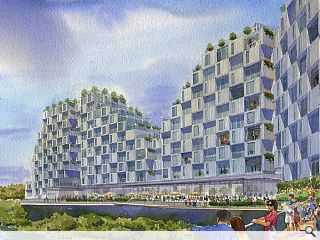 Canadian developer Carttera has staged a public consultation into its latest development proposals for Rubislaw Quarry, drafting plans for 300 PRS flats, a bistro, walkway, function room and gym.
Superceding a previously consented office block
the latest plans, designed by the IBI Group with Aurora Planning, will improve access to the 140m deep flooded quarry by erecting a public promenade around its edge, with direct pedestrian connections to Hill of Rubislaw.
As part of the work the natural setting of the quarry would also be improved, with indigenous planting seen as 'integral' to the building.
Communicating their approach Carttera wrote: "The unique shape of the site was one of the main design drivers in the creative process, where the usable depth is severely limited by the edge of the quarry. Design options resulting in a long 'bar-shaped' scheme were intentionally avoided.
"Inspiration was drawn from natural landscapes such as the Three Sisters of Glencoe, where the profile of the hills is both linear and undulating. The other main design inspiration is to 'stack' the residential units in the same way as the blocks of granite cut from the quarry itself. The resultant of these two ideas is a long stretch of quarried blocks, rolling alongside the precipice they overlook."
To celebrate the sites industrial heritage a permanent exhibition will be housed within the bistro, with photographs recording the active quarry in its heyday alongside key buildings which made use of its stone.
The scheme is being pitched in
direct competition with a rival heritage centre
, backed by local businessman Hugh Black, to which Carttera is implacably opposed.
Public feedback on the £68m scheme is welcomed at info@auroraplanning.com through to 17 October. A formal planning application is then expected by the end of the month.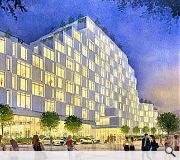 Designers were inspired by blocks of granite in their approach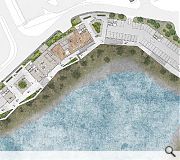 The quarry will be fully publicly accessible for the first time
Back to October 2017