Feasibility study points way to Eigg community centre
October 10 2017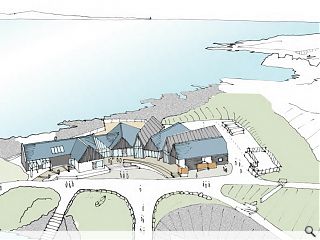 An advanced feasibility study has been prepared by Sam Foster Architects and landscape architects Urban Pioneers for the refurbishment and extension of an existing tearoom and shop on the
Isle of Eigg
to form a new community hub.
Designed for Isle of Eigg Heritage Trust to serve as the centerpiece of island life the facility will cluster around a paved 'gathering space' with a crescent of facilities including a look-out point, tea room, shop, post office, brewery and interpretation centre backing onto a rear service and storage area.
A group of new buildings mimic the width and mass of a retained structure with gables huddled together for shelter on the exposed site, retaining mounds and rock formations wherever possible.
Outlining the concept Foster wrote: "The layout of the buildings on the site creates a clear sense of arrival and welcoming embrace. The arrangement of buildings in clusters around an open space provides views towards both piers as well as framing the view southwards towards Ardnamurchan. The layout uses the building to provide shelter from the prevailing winds from the south southwest; it also gives easy access between different building uses and creates a protected external area for social activities including market stalls and music events.
"Gaps and accessible routes between the new and old buildings allow easy movement between the parking and recycling at the 'back' and the open 'public' space at the front. By having a definite 'front' and 'back' to the site, the layout also enables the workings of the pier to continue whilst accommodating visitors to the island."
Finished in untreated charred timber cladding and natural slate new elements will benefit from extra thick walls and triple glazing.
The feasibility study will be completed by the end of the month whereupon the Trust will begin the task of arranging funding.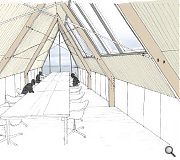 Meeting rooms and office space will be included in the accommodation mix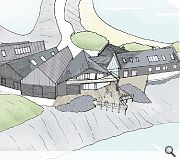 The gable roofs of each element will form a single faceted curve
Back to October 2017