Troon care home tackles ageing population
September 26 2017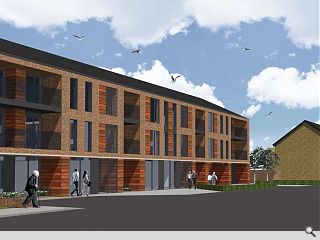 A
50-bed care home is proposed to be built at Templehill, Troon
, by Northcare and the Unum Partnership following demolition of an existing office building and a number of small 'eco-houses'.
The 0.32 hectare site sits within the town centre on land currently designated for industrial and commercial use and will engage the street via a ground floor activity space with accommodation above.
In their design statement Unum wrote: "The building is positioned towards the front of the site to allow for street frontage to on Templehill and turn engage with the surrounding context. The T-shaped plan formation creates 2 separate areas to the rear of the site, allowing for generous garden spaces.
"The floor location of the residential wings on the upper floors allows for car parking to be located in the gap to the north west of the site and a large deck to be formed above in order the create a garden space for residential bedrooms surrounding this area and concealing the car park below."
Faced in brickwork with rainscreen cladding elements the project will accommodate the frail elderly as well as people with dementia and alzheimers.
Back to September 2017