St Enoch Centre embraces Argyle Street in latest plans
August 21 2017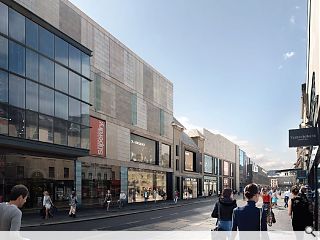 Benoy have tabled finalised plans for the
overhaul of the Argyle Street frontage of Glasgow's St Enoch Centre
, including an historic theatre frontage, to offer flexible floorspace attractive to retailers.
Designed to improve connectivity between the street and shopping mall behind this will see the introduction of double-height shopfronts clad in bronze anodized aluminium serviced via an existing basement level alongside extensive demolition from 135-153 Argyle Street to make room for three flagship outlets.
Sandwiched inbetween will be the retained façade of the former theatre within which will be inserted a large bay window in reference to a 1930's billboard display with proposed finishing materials include a slate roof, limestone and metal cladding.
Outlining their concept in a planning statement Benoy wrote: "The design of the new elevation aims to unify the building through the use of three key materials: stone, metal and glass. The proposal creates three flagship stores with simple, clean materials and detailing and clearly divided entrances on ground floor. The proposal also includes a change of first floor level in the central part of the building to match levels to the east and west sides, restoring horizontal order and giving more cohesion to the design.
"The proposal for the theatre section retains its original design with a large modern 'picture window feature' on first floor. The pitched roof and new block's undulation relates to the varied roof line."
The latest phase of work follows confirmation that
Vue Entertainment will open a nine-screen cinema to the east of the current centre
.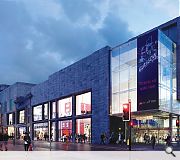 The St Enoch Picture Theatre closed in 1935
Back to August 2017