Cathcart Road retail park plans submitted
August 9 2017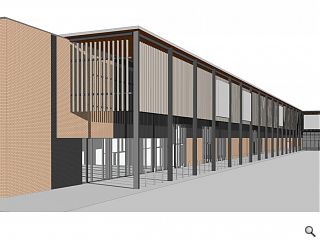 Smith Design Associates have drafted plans on behalf of Clydebuilt Crown Street Jersey Property Trust to erect a new
retail park on vacant land off Cathcart Road, Glasgow
.
With input from structural engineers Quattro Consult and services consultants KJ Tait the L-plan build will front a 'parking square' framed by coffee and restaurant kiosks opposite both arms of retail with the aim of establishing itself as a 'community shopping facility'.
Explaining their design approach the architects said: "The colonnade provides generous cover from rain whilst also providing shade from solar gain. It will be roofed over a screen of vertically hung timber fins that create a plane where operator signage is displayed.
"The elevation behind the screen will be dark cladding providing a dramatic backdrop to the timber fins and signage.
"At the gables to the retail terraces the colonnade will stop and brick will dominate the elevations."
Turning its back to Cathcart Road owing to the difficulties of access and topography the scheme will nevertheless make use of 'subtle' brick detailing in reference to newly completed homes in Laurieston with a wraparound canopy extending out to the road. A drive-through restaurant will also be built.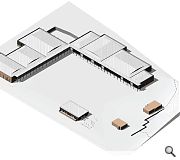 Shops and cafes will front a public car park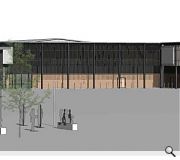 The retail park aims to tie-in with recent residential development
Back to August 2017