11 'vertical' apartments earmarked for historic Edinburgh square
August 4 2017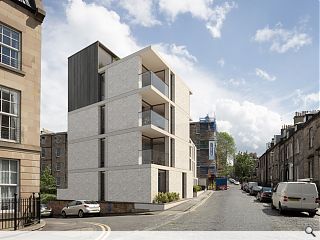 Edinburgh's Gayfield Square could be bulked up with the
submission of plans for 11 flats by LBA
, blending a contemporary design of natural stone within the New Town conservation area.
The 'ordered vertical design' will replace a row of unremarkable workshops which housed a car mechanics prior to conversion to an art gallery in 2000.
Expounding their design principles LBA stated: "The overall form of the building has been informed by the surrounding built environment and site context. In relation to its mass the building proposed is of a domestic scale building akin to surrounding developments. The form of the building has been arranged to minimise overshadowing impact to neighbouring buildings. In comparison to the frontage of the existing building, the existing pavement will be widened by setting the elevation line of the new building back.
"The new pavement will be re-surfaced and the drop kerbs will be removed to create a more accessible pavement arrangement. The new ground floor flats will be fronted by factor maintained gardens providing a buffer between the street edge and the proposed building but also improving the outlook of neighbouring buildings."
The current proposal marks a revision to a previously approved project.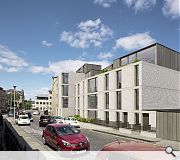 A north west view from Gayfield Square
Back to August 2017