Heriot Watt push Riccarton marriage of maths & engineering
July 28 2017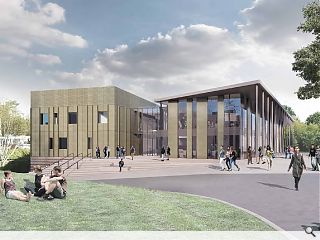 Heriot Watt University, together with Sheppard Robson and Rankin Fraser, have come together to design a
discovery & innovation centre in Riccarton
which will draw together the faculty of engineering and physical science with that of maths and computer science.
Offering a variety of teaching and collaborative spaces as well as start-up office accommodation the project will connect with the wider campus, which includes the Oriam sports centre, the building has been conceived as two separate halves sharing a central atrium.
A northern portion would be partially buried within the landscape resting on a rusticated plinth above which would sit a two-storey classroom block, given relikef by the application of external fins. A twin block to the south will reach out into the landscaped grounds with a large roof overhang offering solar shading for south facing windows.
Outlining the intended user experience for those arriving at the finished build the architects wrote: "the two storey classroom block clad in a metal skin with a sequence of rectangular fins along its length. The colour palate for the building reflects both the natural campus landscape and earthy tones of the existing buildings.
"The fins give relief to the elevation and define the principle floors above the rusticated basement and the line
of the 'attic' plant screen above. The plant screening is a perforate panel extension of the flat panel cladding
without the fins."
An accompanying landscape plan calls for a variety of planting types to augment the designed landscape, addressing a large lawn which serves as a shared amenity space.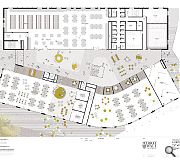 Both schools will share a common atrium space
Heriot Watt push Riccarton marriage of maths & engineering
Back to July 2017