Ripple Retreat laps shores of Loch Venacher
July 19 2017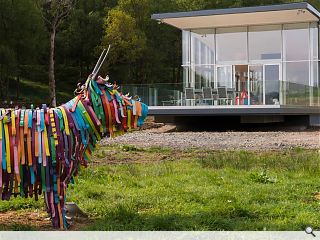 Cancer charity 'It's good 2 give' have taken possession of the Ripple Retreat, a £1m respite for young people with cancer and their families on the shores of Loch Venacher, Callander.
Designed by Kettle Collective Architecture and services engineer Cundall the three-bedroom home provides a place of recuperation for patients and their families, delivering a low carbon footprint into the bargain by way of an air source heat pump for hot water and a bore hole for the cold-water supply.
Stretching to 260sq/m the property earns its name by way of its distinctive undulating pigmento blue zinc roof and large glass windows which enclose a modern and colourful interior that makes the most of its lochside views.
'It's good 2 give' founder Lynne McNicoll, said: "The Ripple Retreat will be a lifeline to families struggling with the devastating effects of a child's cancer diagnosis. Families are quickly thrown into despair having their child endure the ordeal of chemotherapy and the ravaging effects of this cruel disease. Our gift to these families is the Ripple Retreat. A luxurious and peaceful living space for a short break to relax, reflect and hopefully, enjoy time together."
Photography by Murdoch Ferguson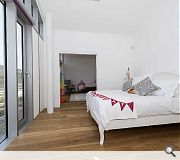 Guests can make the most of panoramic loch and mountain views
Back to July 2017