Falkirk champions city ambitions with £150m masterplan
July 13 2017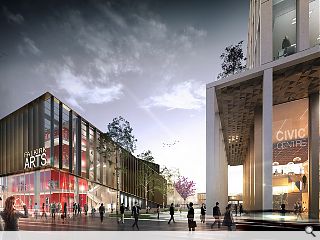 Falkirk-based property development firm Bellair has outlined an ambitious vision to develop 6.7 acres of council-owned land around Grahamston railway station, to form a £150m extension of Falkirk town centre.
Proposals drawn by 3D Reid outline a new base for Falkirk Council services, a 500-seat arts venue, 300 homes, offices, leisure, retail and a multi-storey car park – all connected by enhanced landscaping and a link bridge over the railway line.
Bellair founder Alistair Campbell said: This development will help to draw people back into Falkirk's historic town centre, creating extra footfall for the businesses that are already an integral part of our community and attracting other companies to be part of the next chapter in our story.
"We have to stop thinking of Falkirk as a town. The area is fragmented with local communities competing for investment. We need to think collectively and share a united vision for the region. If the population of Falkirk district was considered as one, it would have a population to rival Dundee, one of the biggest economies in Scotland. Falkirk, longer term, should be seen on a city level and the Grahamston project could fundamentally help enable this."
Bellair have already
rolled out a new business hub concept
in the town and are keen to capitalise on its equidistant position between Glasgow and Edinburgh within the Central Belt – with Edinburgh 30min away by rail and Glasgow just 20 minutes down the track.
Falkirk Council is
assessing its options in regard to a new Civic Centre
in light of competing options.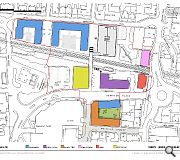 A link bridge will knit together land bisected by the railway line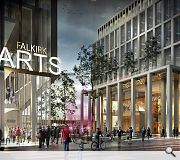 Grahamston would be anchored by a new cicic centre and arts centre
Back to July 2017