War of words breaks out as Calton Hill tussle turns nasty
July 11 2017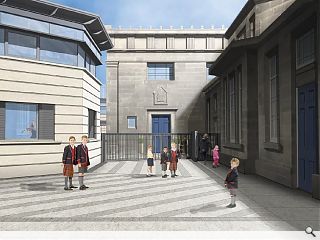 Proponents of competing visions to develop Edinburgh's Old Royal High School are at loggerheads following publication of a report by Arup's suggesting that an approved Royal High School Preservation Trust (RHSPT) vision to
turn the building into a music school
risked 'irreversible damage' to the A-listed structure.
Commissioned by Urbanist Hotels and Duddingston House Properties the Arup report warned that the Music School plans entailed both an unacceptable loss of historic fabric but also significant risks for the stability of the Hamilton building.
Urbanist Hotels co-founder David Orr said: "The Arup findings clearly show that the proposed RHSPT scheme will have a devastating impact on one of Scotland's most important buildings. The RHSPT scheme combines the permanently destructive loss of important authentic heritage assets with a high risk of endangering large parts of the Hamilton building. It is also a consent apparently based on incomplete demolition drawings, which is surprising given the listing status of the building.
"Most significantly, the Arup reports clearly expose the extent of the proposed destruction of heritage assets behind RHSPT's campaign which sits right at the heart of their proposals."
Disputing these findings in an equally vociferous response an RHSPT spokesman said: "This latest attack is pretty desperate stuff from a team who are clearly spooked. It appears that they haven't read (or have chosen to ignore) section 10 of our design statement which covers all the issues raised. Our engineering approach was unreservedly approved by Historic Environment Scotland, and had the unanimous backing of the council's planning committee.
"The 80% of the people in Edinburgh who support our scheme won't be fooled by this sort of nonsense."
Urbanist were refused approval for their own hotel scheme,
forcing them back to the drawing board
, but have an agreement with the council permitting them to keep trying until 2022.
Back to July 2017