David Livingstone Centre strikes out with £4m lottery win
July 4 2017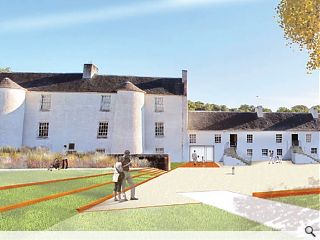 A bid to overhaul the David Livingstone Centre in Blantyre has been given a boost after the Heritage Lottery Fund agreed to stump up £4m toward a £6m transformation of his birthplace into a modern museum and visitor attraction.
The cash will unlock the full potential of an unprepossessing Mill house, Livingstone's birthplace, to better tell the inspirational story of how an impoverished mill worker became a hero of the Victorian age with a lasting legacy in Africa.
Lucy Casot, head of HLF Scotland, commented: "The life of David Livingstone is both incredible and inspirational yet his pioneering work is recognised more in Africa than it is in Scotland where he was born. In the Year of History Heritage and Archaeology, it's timely that, thanks to National Lottery players, David Livingstone's birthplace is set to become a valuable education resource and world tourist destination."
ERZ and Hoskins Architects formed part of the design team for the site,
which would entail creation of a new reception, café, shop and expanded exhibition space capable of housing some 3,000 artefacts.
Back to July 2017