Flanagan Lawrence hit the right note in St Andrews
June 26 2017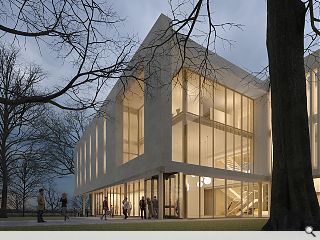 The University of St Andrews has finalised plans for an
£8m Flanagan Lawrence designed music centre at Queen's Terrace
in the expectation that work could begin by the end of the year.
Conceived to complete the historic St Mary's Quadrangle
, replacing an area given over to temporary buildings and a car park, the new school will include rehearsal and teaching spaces as well as a studio, recording suite and library.
Outlining the design development of the front elevation the architects said: "The external envelope is conceived as a series of vertical sliding planes orientated in a north south direction. They are juxtaposed with three solid volumes which are clearly articulated on the north and south elevations.
"While the planes are visually anchored in the landscape, the eastern most plane appears to float. This is reinforced by the setback at ground floor level which creates a covered walkway on the approach from Queen's Terrace.
"A large aperture is punched in the floating plane to announce the entrance and to maximise the amount of natural light entering the foyer."
Faced in stone cladding and curtain wall glazing the centre will connect Queens Terrace to St Mary's Quadrangle by way of a new colonnade.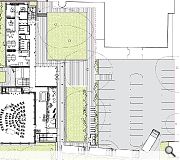 A ground floor plan of the new music centre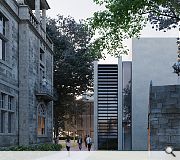 A new collonade will connect to St Mary's Quadrangle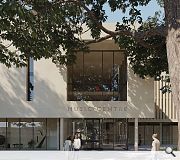 Construction could begin before the hyear is out
Back to June 2017