QMU Campus Opens
|
Send to friend
July 7 2008
Dyer's £105 million new campus for Queen Margaret University was officially opened the Queen on Friday 4th July.

The new campus has been masterplanned to simulate the conditions of the modern workplace and enable students on vocational degree courses to work in 'live' environments with genuine 'clients'.
"Dyer have set a new standard in university design with our innovative, student-centred campus which has achieved the highest BREAAM rating of any university in the UK," said Rosalyn Marshall, Vice Principal.
"The campus has come to life in a way that exceeds all our expectations. We are delighted at how the design team has capitalised on the need for learning to be a social activity, with flexible teaching, learning and social spaces encouraging collaborative work amongst staff and students."

Dale Sinclair, Director (Dyer) added that from the outset, QMU had a strong vision for the campus.
"They wanted a modern, sustainable, accessible and inspiring academic village that would reflect their values and facilitate their way of working. We are proud to have achieved and exceeded their expectations and delighted that they have chosen to mark the campus opening in such a prestigious way," he said.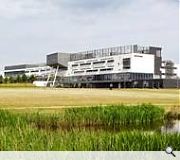 Back to July 2008