World-first for Oldham as latest Maggie's Centre opens its doors
June 21 2017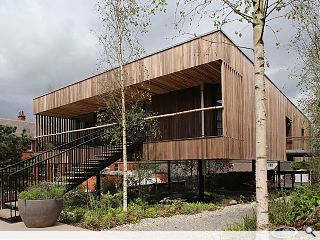 A dRMM Architects designed Maggie's Centre in Oldham, the first building in the world to be built using hardwood cross-laminated timber has opened its doors.
Fashioned predominantly from tulipwood the centre aims to capitalise on the health and wellbeing benefits attributed to the natural material known for its beauty, strength and warmth. This affinity with timber is taken a step further by organising the facility around a central tree, growing through a billowing atrium the centre has an outsize kitchen table at its centre with a base fashioned from CLT off-cuts.
Practice co-founder prof. Alex de Rijke said: ""From the Oldham project inception we knew it was the right material for Maggie's, not only structurally and visually, but conceptually. An elevated, open plan, all-timber and glass building - with trees growing through it, and every detail considered from the perspective of use, health, and delight - was always going to be special."
Maggie's Oldham was built in partnership with the American Hardwood Export Council which believes that technological innovations in structural timber mean the time is ripe to broaden the use of CLT in construction.
Maggie's Oldham follows on from the
completion of Foster's Maggie's Manchester
in April.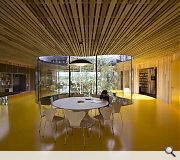 Maggie's Oldham joins a network of 20 existing centres spread around the UK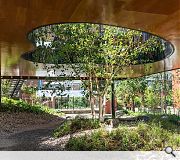 The stilted centre is built around a central tree
Back to June 2017