ARPL's 'urban archaeology' wins Dumfries design competition
June 7 2017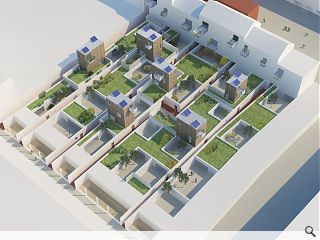 ARPL Architects have come out on top in a
design competition organized by the Glasgow Institute of Architects to reimagine the historic Midsteeple Quarter in Dumfries
.
Placing town centre living at its heart ARPL's approach seeks to bring new uses and footfall to the High Street and its wider context.
In their citation the judges lauded the creation of affordable retail and craft spaces with learning and community spaces forming part of the mix.
The citation read: "The scheme gave real consideration to the cross section through the urban block with a variety of typologies addressing each edge condition. The layering of typology allows for the housing in the core of the block that would feasibly attract a range of people, including families, to work, live and play in the town centre while business units activate the existing townscape with the utilisation of the High Street frontage for specialist local retailers.
"We thought the scheme promoted an urban archaeology to rediscover and utilise the heritage of the organically grown buildings of the back court of the block and that the lightweight additions create a new landscape and built form along the existing feu lines, but at a density and scale that is appropriate to Dumfries."
In second place were Andie Cooke, Megan Ward, Cara Brunton and Ashley Mitchell with Pioneer Landscape Architecture placing third. A drawing commendation was awarded to Ryan Canning and Titas Grikevicius of Holmes Miller.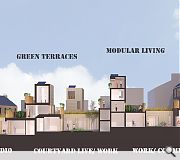 Courtyard live/work areas and small office spaces would be provided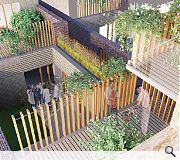 Feuland to the rear of the High Street would be brought back into use as housing
Back to June 2017