Fortrose care home goes before planners
June 2 2017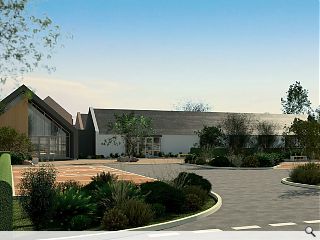 Highland Council are considering a new planning application filed by CRGP Architects to erect a 40-bed car home off Ness Road, Fortrose.
Prepared on behalf of the Parklands Group the facility will serve the wider Black Isle community and has been conceived to provide each resident with a minimum bedroom footprint of 19sq/m together with ensuite facilities.
Designed to offer a homely environment the scheme prioritises natural light and views and connects to the wider landscape via a sensory garden and walks.
In their design statement the architects observed: "The building is of rectangular 'U'-shaped footprint, combining three narrow span, double-bay accommodation units, with a gradation in 1-1½-2 storey height, modelled to present elevations of domestic scale to the neighbouring vistas. The layout encloses a west facing courtyard, rear servicing to the east; and materials reflect the colours and finishes of the conservation area."
Acknowledging local building styles with the use of strong end gables and solid materials such as stone, timber, zinc and slate the building is oriented around a south facing courtyard.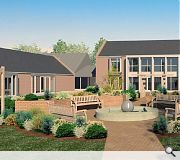 A south facing courtyard maximises light and views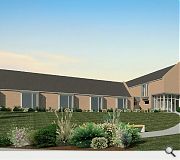 The care home has been conceived to convey the character of a traditional public building
Back to June 2017