Planning sought for Union Terrace Gardens intervention
May 16 2017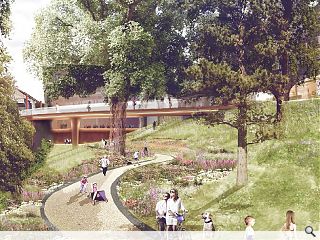 LDA Design have formally requested that
planning permission be granted
for a major intervention at
Aberdeen's Union Terrace Gardens
which would see a variety of alterations, repairs, extensions and demolitions carried out within the park.
Amongst the architectural interventions planned are an events entrance building and toilet block fronting Union Street together with a café pavilion, gallery exhibition space within retained Union Terrace arches and an event space at the foot of the Burns Monument.
To facilitate these works a number of key interventions are planned such as removal of a slip road from Rosemount Viaduct to Union Terrace to allow the gradient to be lowered on the slope down to the gardens to allow an accessible footpath to be laid, forming a natural amphitheatre.
Elsewhere a series of raised walkways will be inserted. Sporting curved balustrades, copper shingle cladding and granite paving these will open presently inaccessible points in the grounds.
A new public building off Union Street will also be formed beneath Union Bridge, upgrading disused Victorian lavatories and plugging into the gardens by its own dedicated walkway. Describing this new events space LDA wrote: "Suspended effortlessly above the Gardens, the new glazed envelope utilises light touch screens throughout the design to allow expression of the historical fabric and complement the ornate nature of the reimagined conserved interior and the strong aesthetic of the curving exterior granite.
"This striking new structure also provides a multilevel viewing connection to the gardens for visitors and incorporates disabled and ambulant lift and walkway access to the lower level of the Garden."
Existing balustrades to the parapet of Union Terrace will be repaired as part of this work with a single storey curved extension rising behind to frame a statue of Edward VII. A glazed screen will also be inserted along the length of Union bridge to prevent trespass over low cast iron balustrades.
If approved work could get underway by autumn 2019.
Back to May 2017