CMM propose short stay accommodation for Glasgow's West End
May 5 2017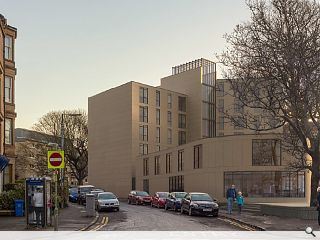 CMM Architects have advanced plans for new
short stay accommodation above a ground level café
at Fergus Drive in Glasgow's West End.
Housing 77 individual apart-hotel suites the scheme lies a short hop from Byres Road which will be let to business, academic and short stay guests for periods of up to 90 days.
In delivering the brief the architects will strive to retain as many existing trees as possible, offer privacy to ground floor tenants and include a variety of 'meaningful' exterior and interior amenity spaces while reconciling the transition from traditional tenements to an estate of 1960's slab blocks.
In their design statement the architects observed: "The building is composed of two component parts; a cranked slab block which responds to the two geometries within the area and, a gushet shaped low building which responds to the curve of both Fergus Drive and Wilton Street. This gushet contains a courtyard within. The vertical circulation is at the pivot of the canted block. This stairwell looks back across the green sedum roof to Queen Margaret Drive and the Kelvin. The core terminates with a lantern.
"On Wilton Street the gushet goes from two storeys to one at the main entrance. The lower ground of the gushet is open to the courtyard. The whole is an object to be viewed in isolation and is perhaps reminiscent of a citadel with its courtyard and tower."
The development will be finished in uniform sandstone coloured glass fibre reinforced concrete panels with bronze coloured aluminium timber composite windows and doors.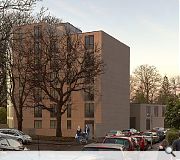 The block has been conceived as an island 'citadel'
Back to May 2017