Design finalised for Union Terrace Gardens overhaul
May 4 2017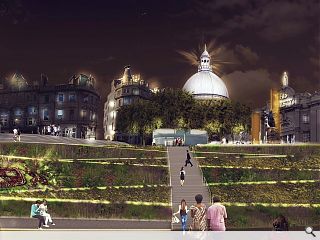 Aberdeen City Council have finalised a
£20m proposal to overhaul the city's Union Terrace Gardens
, the latest twist in a long-running saga to upgrade the public space.
Part of the city centre masterplan the scheme follows on from a public consultation at the tail end of last year which will see plans drawn up by LDA Design delivered in their proposed form.
This will include a number of new interventions such as a hub entrance building offering lift access to the lower level as well as cafes and gallery spaces within existing arches. A halo-style lighting installation is also planned to bring life after hours.
A walkway is also envisaged to enhance accessibility, working in concert with a new entrance plaza opposite HM Theatre which would double-up as a compact events space to complement a full-scale events space on the central lawn.
Council leader Jenny Laing remarked: "I think these plans meet requirements regarding access and greater activities in the park and I think it will help regenerate the city centre."
If the latest plan wins the final all clear from councilors work could proceed from autumn 2019.
Back to May 2017