David Chipperfield to lead Edinburgh concert hall design
May 3 2017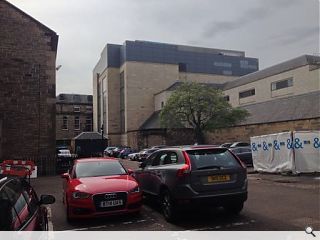 David Chipperfield Architects have
seen off five challengers
to be named as lead designer to build a 1,000-seat concert hall behind Dundas House off Edinburgh's St Andrews Square including state-of-the-art acoustics.
Appointed following a
competition conducted under European procurement rules
Chipperfield will be tasked with delivering state-of-the-art acoustics as well as providing a new home for the Scottish Chamber Orchestra, educational facilities open to young artists, a recording studio and the latest digital technology.
Commenting on the architect's approach Sir Ewan Brown, Chair of IMPACT Scotland, said: "Their approach to designing the interior of the new venue was intriguing, well-expressed and demonstrated a desire to create spaces that would welcome visitors and performers alike. In addition, the team showed sensitivity to the design challenges that would be faced in creating a venue with exceptional, world-class acoustics."
With an architect in place work will now proceed on the detailed design of the £45m project alongside demolition of an office block currently occupied by Royal Bank of Scotland, with the historic bank HQ remaining as a standalone branch. An adjacent bank building at 35 St Andrew Square will be converted for office use by the staff of IMPACT Scotland, the Scottish Chamber Orchestra and other arts bodies.
The architect-led design team also includes ARUP, Whitby Mohajer Engineers, Gross.Max Landscape Architects and Theatre Projects.
Back to May 2017