Easter edition of Urban Realm hits the streets
April 10 2017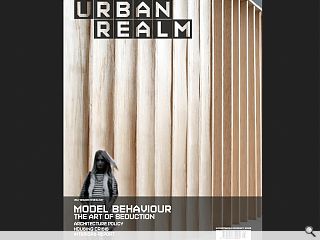 Churchill once said never let a good crisis go to waste and in a world beset by overlapping concerns; from Brexit to Trump and Indyref2, there are opportunities aplenty to look afresh at old practices and established norms.
In that vein Urban Realm attempts to make sense of an uncertain world by revisiting seemingly intractable problems with Alistair Scott investigating how a shock to the system might be just what is needed to remodel a broken housing market. It is a baton Urban Realm will be carrying throughout the year in an effort to manifest real change.
Something else which is broken is Scotland's architecture policy. Launched amidst great fanfare in 2001 it was heralded as a step- change in our embrace of design but, as Peter Wilson details, it is no longer fit for purpose.
The competitions process has long been another bone of contention but has the time come to clear the waters with a new set of guidelines? We look at recent experiences at home and in Europe to see if there is a better way of doing things.
It is interiors however to which we dedicate the bulk of this issue, lifting the rug on those fashions, trends and technologies which will carry the next generation in a fast- developing field.
We also mark the bicentenary of Alexander Thomson. A year-long programme of events are planned to mark the Glaswegian great but is there much to celebrate?
To get your hands on a copy simply submit your request online
.
Back to April 2017