Construction begins at Dumfries learning hub
April 4 2017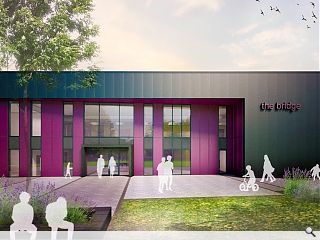 Graham Construction have moved on-site of a new community facility in Dumfries delivered on behalf of Dumfries and Galloway Council and Hub South West.
The Bridge is the third project to be delivered as part of the
Dumfries Learning Town initiative
and will provide lifelong learning facilities for people of all ages and interests when it opens during winter 2018/19.
Situated on a former bowling green the Holmes Miller designed facility will offer a school, theatre, cinema, dance studio, lecture and study space, model restaurant, and craft centre all under one roof.
Council leader Ronnie Nicholson commented: "The start of work on The Bridge is the final piece in phase one of the transformation of education in Dumfries. Not only does this development bring together academic and vocational opportunities in Dumfries under one roof, it is being developed right in the heart of North West Dumfries, showing the ambition the Council has to support the community and the whole of our town.
"The next challenge will be to move onto phase two, which will include the refurbishment of Dumfries Academy (Central Campus) and a new Dumfries High School (NorthEast Campus), completing what will be the biggest ever investment in education in Dumfries".
Work to renovate St Joseph's College and build a new NorthWest campus are already underway as part of the same initiative.
Back to April 2017