Dualchas charge ahead with wild goat re-branding
April 3 2017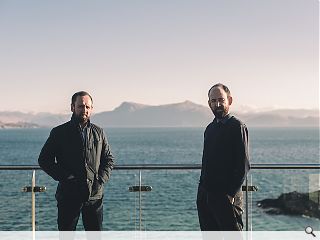 Dualchas Architects have marked their 21st anniversary with a practice re-brand that has seen it adopt the image of a wild Hebridean goat, a symbol of resistance dating back to the Highland clearances, as a new identity.
Formed in 1996 on Skye the practice has built a reputation for rejuvenating residential architecture throughout the Highlands and Islands by reinterpreting historic styles such as basic turf-topped blackhouses.
The team are currently Co-founder Neil Stephen commented: "Our manifesto comes from the idea of what architecture can do for cultural confidence and helping Highland architecture be important. When you look at what Dualchas does in contrast to other practices, it has been clear we have led the way in establishing that.
"For 21 years, our work has centred on the premise that by instilling community confidence and value in architecture, you can help sustain rural communities through good design."
Fellow co-founder Alasdair Stephen added: "While we are proud to have contributed to improving, and making high quality design a reality in rural Scotland and beyond, there are serious challenges for our profession in trying to help deliver affordable housing. Rural Scotland could be transformed into a modern, vibrant economy, but it faces a crisis through a lack of housing for the young. Vision and leadership are needed at every level to solve this problem."
The charging goat motif symbolizes the replacement if people with sheep throughout the region, a process which saw domesticated goats left behind – with survivors subsequently running feral in remote glens.
The practice is currently working on plans to deliver a
remote visitor centre for the Isle of Lewis
.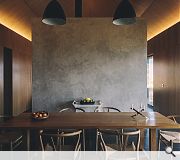 Boreraig at Glendale on the Isle of Skye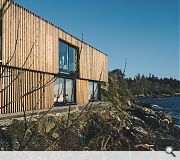 Photographer Peter McNally captured the practices Ancala guesthouse at Armadale
Back to April 2017