17th century herb garden to be reinstated at the Palace of Holyroodhouse
March 24 2017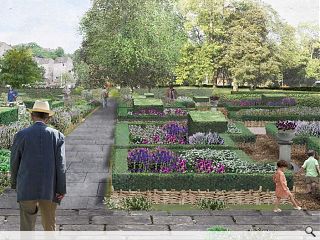 The Royal Collection Trust have revealed plans to create a new herb garden at the palace of Holyroodhouse, inspired by the long-gone 17th century medicinal garden which once grew there.
As only the second botanic garden to be established in Britain this was an early pioneer in the scientific scrutiny of the natural world and was used to teach students about the medicinal properties of plants as well provide pharmacists with a steady supply of herbal ointments and remedies.
The 2,500sq/m garden will be sown with plants that would have been familiar to 17th century visitors with raised flower beds laid out on a geometric grid alongside a flowering meadow based on the 15th century monastic garden at Holyrood Abbey.
Royal Collection Trust director Jonathan Marsden, said, "The return of scientific gardening to the place of its birth in Scotland will provide a new focus of interest for visitors to the Palace, for the local community, and especially, we hope, for young people."
The garden forms part of wider improvements to the Abbey Strand buildings which will play host to a new learning centre to coincide with the opening of the palace forecourt to the public for the first time in 2018.
Back to March 2017