Glasgow office to hotel conversion to 'complete the block'
March 10 2017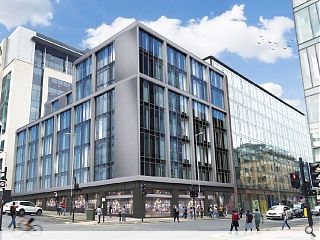 ICA Architects have followed up a change of use application to convert the
disused Douglas House office block
on Glasgow's Waterloo Street into a hotel by filing plans to replace the failed curtain walling while
infilling upper storeys around the existing concrete frame
.
This will retain the form of the existing building while infilling the recessed upper two floors to increase floorspace and 'complete the block'.
In a design statement ICA explained: "The existing proposal retains the step back to the 5th and 6th floors. This proposal infills this area to complete the block. Completing the block takes cues from surrounding offices.
"Profiled aluminium extrusions both horizontally and vertically provide a grid frame across the building. The grid provides depth
of reveals which are characteristic of the adjacent Conservation Area.
"The grid is continued into the new inserted block ensuring this retains depth of light and shade across the façade. The infill block sits slightly recessed and the aluminium box sections are clad to match the plinth. This completes the block whilst retaining the language of the existing proposal and ties the infill back to the plinth."
Replacement cladding will take the form of aluminium curtain walling with clear glass and glazed 'look-a-like' panels.
Back to March 2017