Glasgow's Graving Docks to be resurrected with 750 new homes
March 7 2017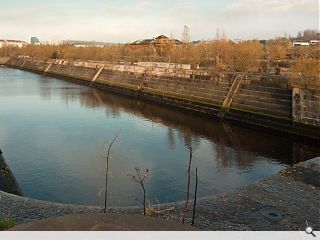 ZM Architecture and New City Vision have reheated credit-crunched plans to erect a housing-led regeneration of Glasgow's Graving Docks, potentially bringing the site back into use after 40 years of dereliction.
It is envisaged that this would take the form of up to 750 homes in a series of buildings ranging from four to 15 storeys in height, with 100 of these made available at mid-market rents and the remainder offered for private sale and rent.
Included in this mix would be a number of shops, cafes, bars and restaurants – possibly in the form of small, lightweight, dockside pavilions with the option of introducing a hotel and offices also being explored.
These would be arranged around the restored 'A' listed docks and a new heritage centre within the pump house, with industrial heritage such as crane tracks, metalwork, caisson gates, cobbles and masonry all retained.
The tidal docks themselves will be retained as part of this work and a new City Deal funded footbridge will offer connections to the Science Centre, providing public access to the docks in their entirety for the first time.
In a statement the team said: "There will be public access anywhere without buildings – that's over 80% of the site, including the water in the docks.
"The areas around the three docks, the basin and the river will all have public access. There's a huge opportunity to use them for different things; going for a walk, community gardens, natural river edges, café kiosks, play areas, tai chi, restoring old boats – or just sitting and enjoying the view."
A planning in principle application for the waterfront site is expected to be filed in April.
Photograph by Tom Manley
Back to March 2017