£3.7m Girvan school breaks ground
March 6 2017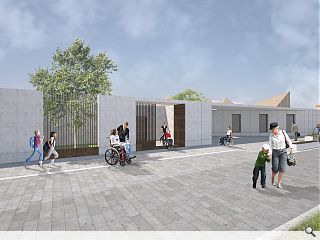 South Ayrshire Council are to press ahead with a new Invergarven School later this month within the grounds of Girvan Academy, in a boost to the education of children and young people with additional support needs.
The £3.7m school
has been conceived by JM Architects and the council's own professional design service to take the place of the current Invergarven special school for children of primary and secondary age.
Built in 1870 this has reached the end of its design life, necessitating construction of a new build delivering modern teaching spaces as well as specialist accommodation including a sensory room, life skills kitchen, multi-use hall, hydrotherapy pool and outdoor learning spaces.
The single storey school will include five classrooms with dedicated support and medical rooms, allowing capacity to be increased by a third to 20 children when the new school opens in April 2018.
Back to March 2017