Kirkwood Homes extend Dundee development pipeline
March 3 2017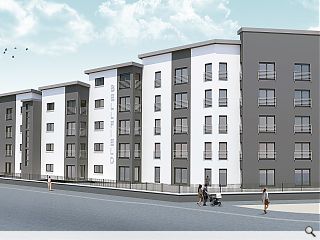 Kirkwood Homes have advanced plans to build
49 two-bedroom flats
in Dundee following demolition of the 1920's St Joseph's Primary.
Occupying a prominent gusset junction between Bellfield Street and Hawkhill its footprint has been pushed as far forward as possible to reinforce the disjointed street scene with a 'feature building'.
In its design statement the developer observed: "On a key corner site such as this, it was considered that scale
and massing are important considerations to create a landmark piece of townscape, a feature building.
"The footprint of the new building has been very deliberately set at the furthest forward practical footprint onto both Bellfield Street and Hawkhill. This approach has been taken as a conscious move away from the disjointed feel that the Hawkhill by-pass currently presents to the local street scene, thereby redressing the visual balance and improving and enhancing the visual quality of the local area."
Kirkwood Homes are also currently progressing 150 new homes in Broughty Ferry
.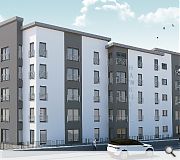 A single pointof access will be provided off Bellfield Street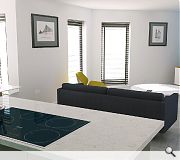 Communal gardens and 150% parking will be provided in a back court
Back to March 2017