Glasgow Central upgrade works continue
February 17 2017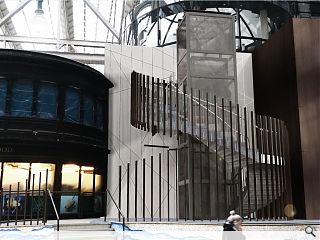 Network Rail have brought forward plans for an internal
reconfiguration of Glasgow Central
railway station with the removal of an existing curtain walled stair enclosure and its replacement with a hardwood and wrought iron reinforced concrete access.
Designed by ISP Architects to allow an existing lift shaft to be maintained the stair will be overclad with new porcelain tiles to match new retail entrance porches below.
Concrete blockwork walls will be overclad with Trespa Cladding.
The upgrade is the latest in a raft of improvements to be rolled out at the station including a
new gin bar
carved out of the basement catacombs and introduction of new
porcelain tiles and iron gates
to signify entrance and egress points.
Back to February 2017