M8 City Park project inches a step further from drawing board to reality
February 8 2017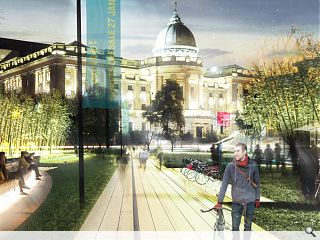 Dramatic plans to heal a 40 year-old wound in Glasgow city centre by 'capping' over a section of the M8 motorway have drawn a step closer with procurement for a feasibility study set to get underway in late spring with more detailed engineering studies and site investigations penciled in for the spring.
A key focus for these efforts will be detailed traffic modelling to ensure any new public space is a safe and welcoming environment for pedestrians
An indicative visual produced speculatively by Keppie shows a stretch of the M8 motorway in front of the Mitchell Library transformed into a linear park but Urban Realm understands this idea has already been shelved after more detailed surveys showed there was insufficient headroom along this stretch.
Instead decking will be restricted to roadway a little further to the north, stretching across an oblong void from Bath Street through to Sauchiehall Street. This approach has been conceived in conversation with the team behind Klyde Warren Park, Dallas, which overcame similar challenges.
Council leader Frank McAveety, commented: "This is a truly inspiring project, but also one that is complex as it is ambitious. We must get the groundwork right and take time to create something that benefits the city while delivering a new public space that attracts and connects people and places. Coupled with the other projects coming forward as part of the Sauchiehall and Garnethill regeneration project will ensure that we make this a prominent place in the city's life."
Following feasibility work the bridging concept is expected to go before Glasgow City Council's executive committee for sign-off by mid-2018 with appointment of a design team not expected until well into 2018.
In the meantime, work on the
Sauchiehall Avenue
project is expected to kick-off this summer, transforming the famous thoroughfare into a cycle and pedestrian friendly boulevard.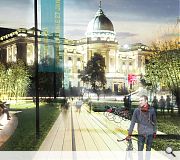 A key consideration for any scheme will be improving connectivity with cultural attractions such as the Mitchell Library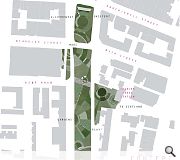 Keppie's David Ross has devised an indicative concept illustrating how Charing Cross might be stitched back together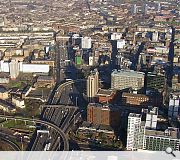 The undercroft below the much-maligned Tay House may be decked over if the stars align
Back to February 2017