7N outline 'industrial' Fountainbridge vision
February 7 2017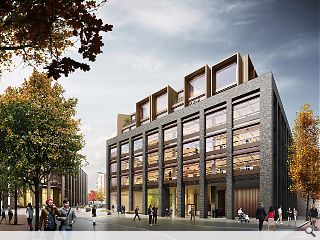 EDI Group and 7N Architects have put forward proposals for the office component of their
£200m India Quay vision
at Fountainbridge, Edinburgh.
The second phase of development at the industrial site will offer 12,171sq/m of office space alongside 1,526sq/m of retail and leisure fronting a new civic square at the Leamington Lift Bridge.
High quality materials including brass, bronze, timber and smoked brick are envisaged for the scheme although the final product selection won't be specified until detailed design work is completed.
In their design statement 7N said: "A simple and refined palette of materials has been chosen for the E2 office building, drawing on the industrial heritage of the site. The proposed materials also complement the design of the wider India Quay masterplan and aim to support the goal of a coherent development with a strong sense of place.
"An indicative palette of materials and product names has been selected and is illustrated here to demonstrate the design intent."
The wider
India Quay masterplan
seeks to build a permeable urban neighbourhood with priority given to walking routes along the Union canal.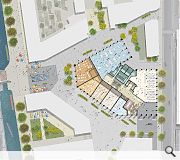 The plot faces a planned civic square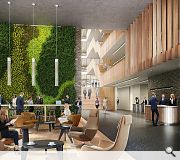 The proposals are likely to evolve further during detailed design work
Back to February 2017