ADF float plans for Finnieston Crane pontoon restaurant
February 1 2017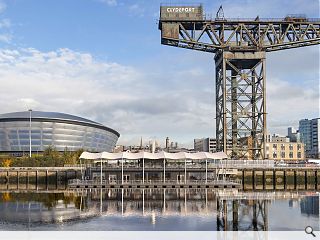 ADF Architects have published plans to
moor a pontoon restaurant
on the banks of the Clyde at Finnieston; including a small dock for vessels to improve support for water sports and recreation.
The floating vision is the brainchild of restaurateurs keen to capitalise on burgeoning demand in the area following construction of the Hydro, giving diners a different perspective on the city.
In their planning statement ADF observed: "The floating restaurant to be moored at this location has been designed to complement existing architectural features and to add to the interest and activity in this location.
"In this context the addition of activity on the river with architectural features that complements the Hydro and other buildings in the surrounding area will add to the attraction and vitality of the river at this location."
The pontoon eaterie will take the form of a galvanized metal frame with larch vertical strip timber cladding accessed from the quayside by a secure platform - topped off by a PVC coated polyester tensile roof and a stainless steel wire mesh flue.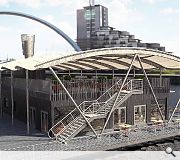 As part of the work an existing riverfront footpath would be upgraded; including an opportunity to install improved lighting at the Finnieston Crane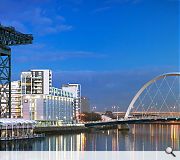 The venue would join the Renfrew Ferry further upstream
Back to February 2017